Facial expression detection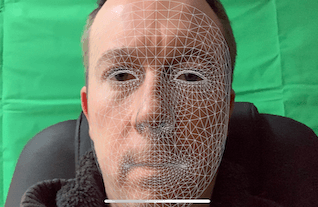 ---
Description
In this lesson, we look at the large number of facial expressions that ARKit face tracking can recognise.
Notice for the first time we are using material.FillMode = SCNFillMode.Lines which works well to show the contours of the face.
We interrogate a property on the detected FaceAnchor called BlendShapes to get information about different parts of the face.
While ARKit is able to track many more expressions than the code sample below, I have decided to detect the following expressions and change the colour of the FaceGeometry material lines accordingly.
Smile - Pink
Mouth Frown - Brown
EyesWide - Green
BrowUp - Cyan
TongueOut - Red
MouthFunnel - Yellow
Eyes Left/Right - Magenta
CheeksPuff - Orange
EyesBlink - Blue
The full list of detectable available facial expressions is at ARFaceAnchor.BlendShapeLocation.
---
Video
---
Code
using ARKit;
using SceneKit;
using System;
using UIKit;

namespace XamarinArkitSample
{
    public partial class ViewController : UIViewController
    {
        private readonly ARSCNView sceneView;
        

        public ViewController(IntPtr handle) : base(handle)
        {
            this.sceneView = new ARSCNView
            {
                AutoenablesDefaultLighting = true,
                Delegate = new SceneViewDelegate()
            };

            this.View.AddSubview(this.sceneView);
        }

        public override void ViewDidLoad()
        {
            base.ViewDidLoad();

            this.sceneView.Frame = this.View.Frame;
        }

        public override void ViewDidAppear(bool animated)
        {
            base.ViewDidAppear(animated);

            var faceTrackingConfiguration = new ARFaceTrackingConfiguration()
            {
                LightEstimationEnabled = true,
                MaximumNumberOfTrackedFaces = 1
            };

            this.sceneView.Session.Run(faceTrackingConfiguration);
        }

        public override void ViewDidDisappear(bool animated)
        {
            base.ViewDidDisappear(animated);

            this.sceneView.Session.Pause();
        }

        public override void DidReceiveMemoryWarning()
        {
            base.DidReceiveMemoryWarning();
        }
    }

    public class SceneViewDelegate : ARSCNViewDelegate
    {
        public override void DidAddNode(ISCNSceneRenderer renderer, SCNNode node, ARAnchor anchor)
        {
            if (anchor is ARFaceAnchor)
            {
                var faceGeometry = ARSCNFaceGeometry.Create(renderer.GetDevice());
                node.Geometry = faceGeometry;
                node.Geometry.FirstMaterial.FillMode = SCNFillMode.Lines;
            }
        }        

        public override void DidUpdateNode(ISCNSceneRenderer renderer, SCNNode node, ARAnchor anchor)
        {
            if (anchor is ARFaceAnchor)
            {
                var faceAnchor = anchor as ARFaceAnchor;
                var faceGeometry = node.Geometry as ARSCNFaceGeometry;
                var expressionThreshold = 0.5f;

                faceGeometry.Update(faceAnchor.Geometry);

                if (faceAnchor.BlendShapes.EyeWideLeft > expressionThreshold
                    || faceAnchor.BlendShapes.EyeWideRight > expressionThreshold)
                {
                    ChangeFaceColour(node, UIColor.Green);
                    return;
                }

                if (faceAnchor.BlendShapes.EyeBlinkLeft > expressionThreshold
                    || faceAnchor.BlendShapes.EyeBlinkRight > expressionThreshold)
                {
                    ChangeFaceColour(node, UIColor.Blue);
                    return;
                }

                if (faceAnchor.BlendShapes.MouthFrownLeft > expressionThreshold
                    || faceAnchor.BlendShapes.MouthFrownRight > expressionThreshold)
                {
                    ChangeFaceColour(node, UIColor.Black);
                    return;
                }

                if (faceAnchor.BlendShapes.MouthSmileLeft > expressionThreshold
                    || faceAnchor.BlendShapes.MouthSmileRight > expressionThreshold)
                {
                    ChangeFaceColour(node, UIColor.SystemPinkColor);
                    return;
                }

                if (faceAnchor.BlendShapes.BrowOuterUpLeft > expressionThreshold
                    || faceAnchor.BlendShapes.BrowOuterUpRight > expressionThreshold)
                {
                    ChangeFaceColour(node, UIColor.Cyan);
                    return;
                }

                if (faceAnchor.BlendShapes.EyeLookOutLeft > expressionThreshold
                    || faceAnchor.BlendShapes.EyeLookOutRight > expressionThreshold)
                {
                    ChangeFaceColour(node, UIColor.Magenta);
                    return;
                }

                if (faceAnchor.BlendShapes.TongueOut > expressionThreshold)
                {
                    ChangeFaceColour(node, UIColor.Red);
                    return;
                }

                if (faceAnchor.BlendShapes.MouthFunnel > expressionThreshold)
                {
                    ChangeFaceColour(node, UIColor.Yellow);
                    return;
                }

                if (faceAnchor.BlendShapes.CheekPuff > expressionThreshold)
                {
                    ChangeFaceColour(node, UIColor.Orange);
                    return;
                }

                ChangeFaceColour(node, UIColor.White);
            }
        }

        private void ChangeFaceColour(SCNNode faceGeometry, UIColor colour)
        {
            var material = new SCNMaterial();
            material.Diffuse.Contents = colour;
            material.FillMode = SCNFillMode.Lines;

            faceGeometry.Geometry.FirstMaterial = material;
        }

        public override void DidRemoveNode(ISCNSceneRenderer renderer, SCNNode node, ARAnchor anchor)
        {
            if (anchor is ARFaceAnchor)
            {
            }
        }
    }
}

---
Next Step : People occlusion
After you have mastered this you should try People occlusion